Online Job Interviews
Every time you have an interview virtually, there are always a few things you should do—and, of course, there are a few things you shouldn't—if you want to make the best impression.
Due to the situation, we are in, many companies are shifting from live to online interviews, so it's important to be ready to make an interview by video call.
According to the latest surveys, companies have increased the usage of video conferencing software such as Adobe Connect certainly for this purpose by 39 % over the last year.
(Our recommendation would be to use Adobe Connect Meetings as a solution)
Although you have the privilege to hold these interviews from your harmonious living room, there are still many challenges you can face.
In order to help you make a great impression and increase the chances to take the job, here is a list of a few mistakes that you should avoid during online interviews.
Always be on time
Same as live interviews, one strict rule you have to follow, is always on time. Imagine that the meeting room you need to enter is the office where you need to show up, so the same rule - if you're not early, you're late. Request to enter the room a few minutes earlier, so you won't have to worry about last-minute technical issues. There's nothing worse than starting a job interview stressed out and distracted, especially because of network or technical issues.
Check the software a few days before
Mentioning technical issues, one of the tricks to avoid them is to make sure that you are more than comfortable with the software that is planned to be used. Create a meeting room on your own, check if you can access it via browser. If there is an app available, make sure that you have it downloaded, for better video and sound performance. Check the basic features and make sure that everything works properly.
Arrange your desk
Once you're seated in front of your computer, you should be able to reach everything you need to carry out a successful interview. Make sure you have all your interview materials, i.e. your resume, references, portfolio, etc., and that you're comfortable and ready to speak.
If you decide to use some of Adobe Connect pods, you can easily share your screen or upload files in the meeting room.
Also, it is good to have a glass of water at the ready in case of emergency. (Interview nerves can cause dry mouth, so it's better to take a sip of water than to cough your way through the meeting.)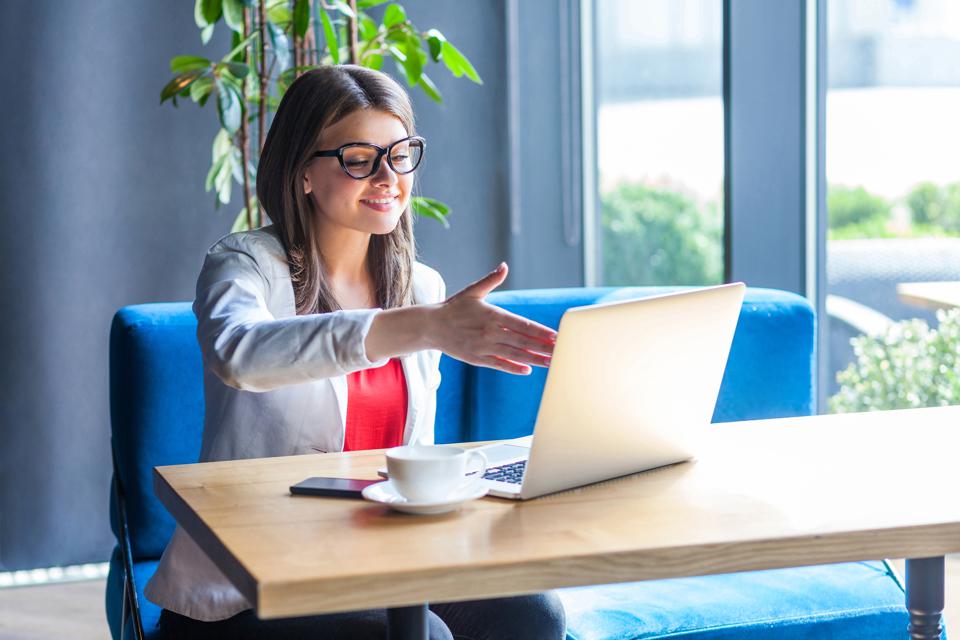 Choose your outfit
Do you even remember what professional attire looks like?
As a quick refresher, business attire or business casual attire is usually the best bet for job interviews. A suit, sport coat, button-down, or nice sweater are safe bets. Try to peg your outfit to the company's culture as you understand it, but do dress up a bit, even if employees keep it super-casual.
Remember that whatever you choose should show well on camera as well as be professional. Avoid wearing the same shade as your background.
Think about your Body Language
Yes, although you are online and only the upper part of your body is visible to the interviewer, the worst online interview mistake you can make is to indicate through your behavior and body language that you're not interested in what the interviewer is saying.
Make sure that you have calm gestures, try your hands to be visible all the time.
Try to have a real conversation
The old image we all have for the interview is that the interviewer asks questions; you answer them. You ask questions; the interviewer answers them. Rinse, repeat. But the truth is that a good job interview is a conversation—no more and no less. You and the interviewer are not on opposing sides, but on the same team, working together toward a common goal.
Focus on listening instead of waiting for your chance to speak. You'll demonstrate valuable soft skills as well as communicate better and learn more about the job. Best of all, you'll make a more positive impression on the hiring manager, which is essential to helping you land the job.